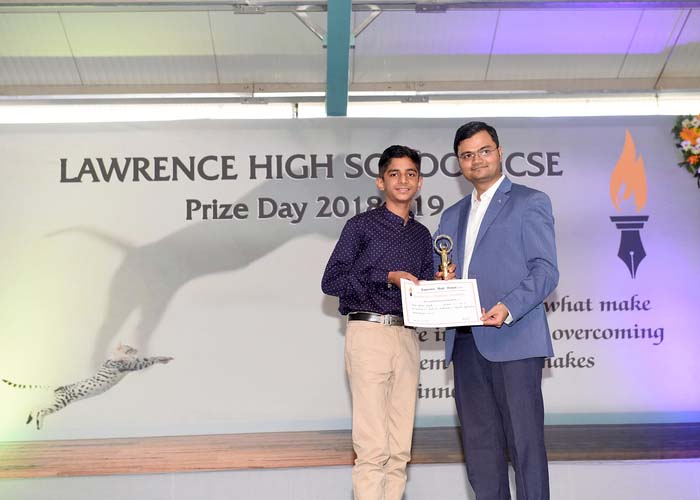 The annual prize day convened on 27th of July 2019 witnessed a glitterati of young achievers. They were felicitated by the school for their determination in achieving another milestone.
The Principal, Mrs. Sujatha Nagraj welcomed the gathering and introduced the Chief Guest, Dr. Advait Kulkarni. The programme was inaugurated by the lighting of the ceremonial lamp followed by invocation dance and musical show. 
Dr. Advait Kulkarni addressed the ensemble.  His message personified every seated student to be a winner and how each student should take a determined step towards achieving their respective goals. He emphasized on the role of the parents and the school in helping children carve out their niche attributes. He encouraged the students to continue unabated in their march to achieve bigger milestones. 
The achievers were presented with trophies and certificated by the dignitaries. 
The Chairman Mr. P M Subbaiah during his address highlighted the importance of discipline and hard work, and how it forms the basis of success. 
Students who have won laurels in spell bee, Chess, Football and other extracurricular activities in the year 2018-19 were also felicitated.
The Managing Trustee, Mrs. Pushpa Subbaiah in her congratulatory message stressed on all round development of students and lauded the winning spirit of Lawrencians.
Mr. Srinivas, the well wisher of Lawrence high school presented cheques and medals to Grade X teachers for guiding students towards 100 percent results in the ICSE Board exams, 2018-19. Seventeen top scorers were felicitated for their commendable performance.
It was a proud moment for both the parents and the teachers.